Solid Wood Systems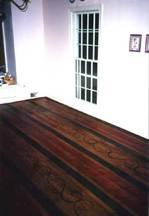 Solid wood floors are one solid piece of wood that have tongue and groove sides and come in either pre-finished or unfinished styles. Solid wood floors are sensitive to moisture and it is not recommended to install these floors below ground level, or directly over a concrete slab. These floors are for nail-down installations only. You can refinish, or recoat solid wood floors several times, which adds to their appeal and to their long life. There are solid floors that are over 100 years old and are still in good condition.

The elegant look of a hardwood floor can add warmth and character to any room in a home. The natural characteristics of wood add depth and a visual appearance that many other types of floors try to duplicate. With the demand for hardwood flooring growing manufacturer's are enhancing their ranges to meet this demand, with better quality finishes and superior construction techniques.
Hardwood floors come in a wide variety of wood species, colours and widths. Besides the classic hardwoods (like red oak, white oak, maple and ash) many manufacturers now offer exotic hardwood species from all over the World.

Exotic hardwood
s give homeowners the chance to better express their own personal decorating tastes with a more unique looking floor. With so many different types of hardwood flooring now available it is sometime hard to choice which is best suited to you.
All solid wood floors will react to the presence of moisture. In the winter heating months, moisture leaves the wood causing the floor to contract which leaves unsightly gaps between each plank. In the summer months when the humidity is higher the wood will expand and the gaps will disappear. If there is too much moisture it may cause the wood planks to cup, or buckle. This is why it is important when installing a solid strip floor to leave the proper expansion area around the perimeter and to acclimate the wood prior to installation.
Go Back