We have a large selection of Oak wood flooring.

Solid Oak Wood Flooring
Solid wood floors are one solid piece of wood that have tongue and groove sides and come in either pre-finished or unfinished styles. Solid wood floors are sensitive to moisture and it is not recommended to install these floors below ground level, or directly over a concrete slab. These floors are for nail-down installations only. You can refinish, or recoat solid wood floors several times, which adds to their appeal and to their long life. There are solid floors that are over 100 years old and are still in good condition.
Oak Species
Oak is the most popular choice of flooring in both America and Europe. Renowned for its durability and decorative appearance, Oak makes an ideal floor and is used extensively in both residential and commercial project.
The main source of Oak, which is used for flooring, is America and Europe. America produces both Red and White Oak while from Europe it is commonly known as European Oak.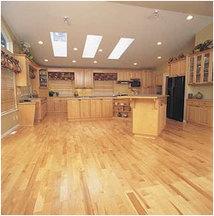 These different types of Oak all have different appearances to them in their color, grain and hardness.
Red Oak
Red Oak is widely used for wood flooring in North America where it is revered for its warm, pink hues and versatility.
The tree grows along the entire east coast from the Southern States up into the wilds of Quebec. The timber from the south is generally courser grained, has more dark mineral staining and black knots.
The northern timber along the Canadian border & the northern Appalachian Mountains tends to be lighter and more uniform in colour with less black knots.
Red Oak has a medium range of color variability from lighter tan tones with pinkish highlights to darker browns. Red Oak undergoes a medium degree of color change over time with a slight ambering of the pinkish tan brown color you get when freshly milled. Red Oak is the species against which we compare for hardness all the other woods we offer for flooring. Red Oak is 1260 on the Janka scale.
White Oak
White oak is a generic name for a number of oak species under one banner. In general terms, the timber from the southern states has a greater number of species and a wide variation in colour, density and general character.
White oak from the northern states has fewer species - usually about four. This means a more uniform appearance & colour and it is similar to European Oak but with fewer small knots and a slightly warmer colour.
White Oak has a medium high degree of color variability and ranges from light tan colors to medium tan colors with a grayish cast to medium brown colors. White Oak undergoes a medium degree of color change, with a slight ambering over time.
White Oak is 108% as hard as red oak (1360 on the Janka scale vs.1260 for red oak).
European Oak
European Oak is an elegant character timber with more grain change and colour variation than American oak. This type of oak can lend itself to modern and historic interiors. It is sourced from all over Europe.
Its colour ranges from a light tan to a deep brown and undergoes a medium degree of colour change with a slight ambering over time. Wild grain, small pin knots and burrs are an attractive and acceptable part the appearance of the timber in all the grades.
As with all wood flooring Oak is available both unfinished and pre-finished. The most common finish is lacquered which gives a protected coat to the flooring. For a more natural look you can have an oiled finish.
Go Back