Services
Installation:
Our installation experts will work with you to design the layout of your custom hardwood floor. Your new
flooring can be installed in any pattern you desire, using any wood species in the world.

Ask about custom in-lays, borders and hybrid patterns.
Refinishing:
From the moment the team arrives, our trained, courteous professionals work to ensure that your restoration project is effortless for you.

The team leader will work directly with you and explain every step of the job, seal off other rooms to contain the mess, and mix stains to create a custom color, if you desire.
Renovation:
Our renovation process is a repeat of the final stage of the sanding and refinishing project.

Your high traffic areas will wear faster than other parts of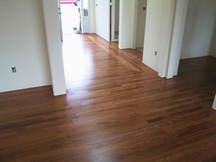 your floor. We can periodically return and re-apply a coat of polyurethane to enhance the durability of your floor's finish.

This simple, one-day-per-coat process is less intrusive, and significantly less messy, than a complete restoration project.
Go Back